Hawaii is renowned for its luscious tropical fruits, unique plants, brilliant flowers, and year-round produce and there is no better way to reap a bountiful basket of your favorites than to visit any number of Kauai's local farmer's markets. Open markets are hosted daily across the Island of Kauai where the many local growers display their goods, and surprisingly each market offers a slightly different appeal and focus. I enjoy the farmers' markets as a regular part of my shopping routine to snap up great deals on my freshly picked Kauai organic favorites for the dinner table. Although most of the farmer's markets offer a spectacular cornucopia of locally grown produce and homemade products, we wanted to list a few favorites. However, we encourage you to visit them all and find your best picks.
For a quick grab-and-go I like to stop by the Sunshine Market located behind Kmart in Lihue on Mondays from 3 pm - 5 pm. On Fridays at Warehouse 3540 in Lawai on Koloa Road, I enjoy the vast array of specialty items while my kitchen knives and my husband's machete and garden tools are being sharpened. On Wednesdays from 3:30 pm to 6 pm you can enjoy live island music, a glass of wine and several options for a light dinner by local chefs at the open market in the Kukuiula Village Shops near the roundabout in Poipu.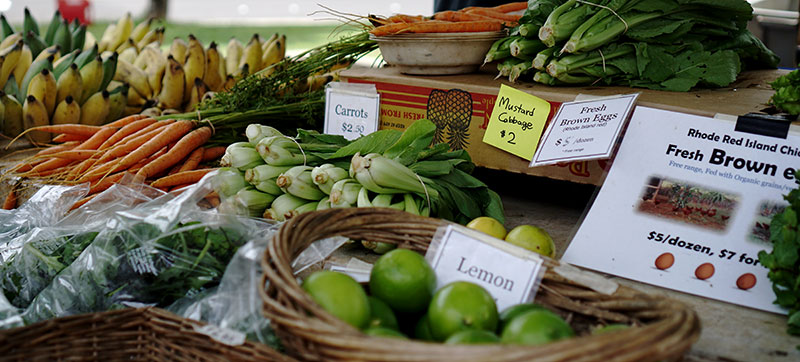 One of my favorite markets is located at Kauai Community College, only five minutes from Hokuala, where every Saturday from 9:30 am -1 pm venders set up a variety of booths that include fresh produce, seasoning salts, coffee, local honey, fresh baked breads, plate lunches, and tropical flowers. You may not recognize all the fruits and vegetables but don't let that hinder you from trying something new. Some of our family favorites are Haden mangos, sunrise papayas, apple bananas, local avocados, Thai watermelons, dragon fruit and the famous Kauai Sugarloaf Pineapple grown by Hole In The Mountain Farm in Kilauea.
Hokuala has made the delectable Kauai Sugarloaf Pineapple their signature gift of aloha because it embodies the beauty and flavor of Kauai so perfectly. It is a low acid, delightfully sweet white pineapple that melts in your mouth (in Hawaii we say "Broke da mout!"). Word of advice, get there early because they were sold out by the time I arrived forcing me to settle for their sugarloaf frozen sorbet, which by the way was Amazing!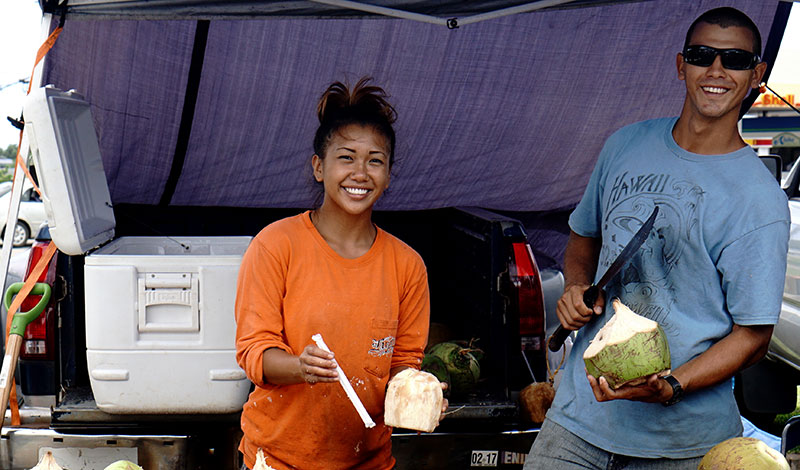 Deliciously refreshing coconut water, an amazing natural electrolyte, has become quite a popular thirst quencher so don't pass up the opportunity to try a freshly cut and chilled coconut while you are shopping. We discovered that one particular vender happened to get their coconuts right out of my family's yard and upon recognizing us she graciously handed us one in thanks! Believe it or not, fruit does just drop off the trees here and depending on the season there can be a surplus of bananas, avocados, mangos, papayas, and coconuts!
Kauai farmers take pride in their ability to provide fresh organic produce, meats, and goods to their community. Being a small island, it is important that we are not solely dependent upon mainland shipments. It is beautiful to see our community support those who work tirelessly to provide food grown locally. I left the market with my basket filled with curly kale, papaya, green onion, dragon fruit, sprouts, Thai watermelon, mushrooms, Okinawan sweet potatoes, cucumbers and an iced cold coconut! What will you leave with?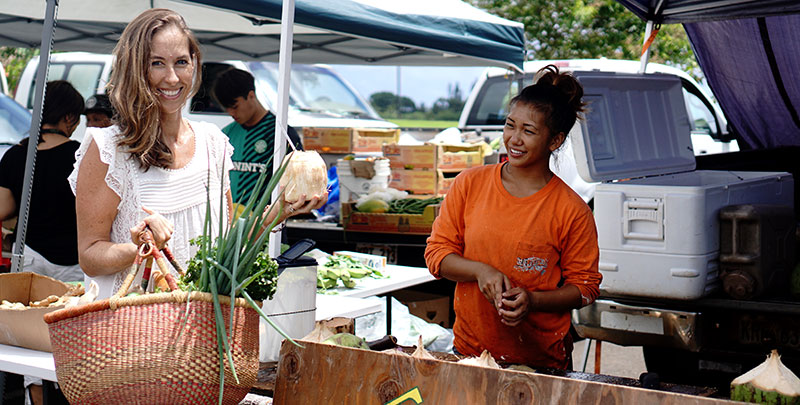 Lastly, I want to share one of my family's favorite recipes made with the Okinawan sweet potato. They are a particularly popular "super food" that have been part of local cuisine for decades. They are high in antioxidants, giving them their brilliant purple color.
Steam 3 pounds of peeled sweet potatoes then blend in one can of coconut milk, a squeeze of lime and a pinch of salt for the best mashed potatoes you will ever taste. Serve them with local fish and vegetables to complete the meal.
Chayil was raised on Big Island and moved to Kauai with her husband Kai in 2003. Kai is retired Coast Guard and currently works for Pacific Missile Range Facility while Chayil provides consulting services for local businesses. Chayil and Kai have two children 17 & 15 and spend much of their time exploring Kauai by land and sea. Kauai provides them with endless opportunities to connect with the land and its people.